The Submariner 6538 is by far one of the most desirable vintage Rolex to own. It was made iconic by James Bond in his early movies. My color change dial 6538 is a little more special being of an early serial number of 158xxx placing it around 1956. Just one other earlier series of 145xxx came first. All 6538 are fitted with the 1030 caliber, some sent to be certified chronometers and others were not.
Case back 3-56 and serial and referance numbers. Notice the bracelet clasp date code 3-56 as well.
Both 145xxx and 15xxxx had the first generation dial, noted by the flat coronet bottom.
I have noticed with original dials and hands on these early 6538, that a color change occurred not by water damage, but by degeneration of radium commonly found on original examples of that era. It gave the dial and hands a unique distress look to parts.
The original bezel insert from my research are of the true red triangle with rounded number font versions. The fat font insert on the left is the early "kissing 40 font". Very rare to find and were the next inserts on ealry Subs after the red triangle version.
The original bezels themselves are of the brass with silver nickel metal plating. The bezel on the left is the origianl version, and the ones the right are the later version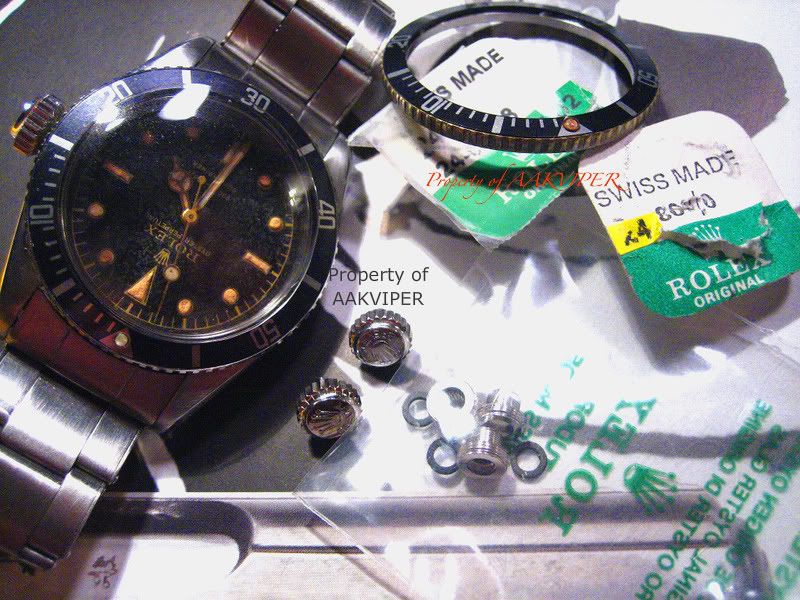 The full set box and papers
Below we can see the 6538 with the rare "kissing 40 insert"

If you want to read about and see more pictures regarding the James Bond and Rolex connection check out Jake's Rolex World..Very neat info.. Just see the link below.

http://rolexblog.blogspot.com/2012/03/sean-connery-ursula-andress-set-of.html